Additional Information
| | |
| --- | --- |
| Item Condition | Brand New |
| Manufacturer | EVGA |
1GB DDR3 Memory - Onboard memory for the best gaming experience & the best gaming experience & the best resolution.
40nm GPU: Less power consumption & more efficient transistor
GeForce CUDA Support: unlocks the power of GPU's processor cores to accelerate the most demanding system tasks
Native HDMI & HDCP Compliant Native DVI-ID-Sub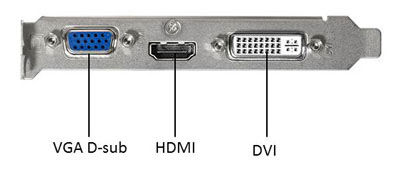 This entry-level graphics card delivers basic performance to deal with your daily work and entertainment needs. Fanless design and ultra low power consumption make it an ideal choice for HTPC and office where silent and cool operation has high priority. VGA, DVI and HDMI outputs let you easily build multi-display environment for multitasking. Complete with quality and reliability ASUS are known for, this VGA card delivers a solid performance boost for your computer.
Perfect for building a hushed HTPC
Exclusive ASUS-designed heatsinks with large surface areas effectively cool graphics cards passively so absolutely no sound is produced while running - perfect for high definition and silent home theater PCs and multimedia centers.
Clearer signals and safer usage
ASUS reduces 66%* of electromagnetic interference both given off and received by the card - resulting in a more stable signal, clearer screen display, and a safer, healthier computing environment.
Perfect for mini-ITX PCs
ASUS gets graphics card design done right for HTPC and multimedia PC use. Products are powered to easily run current game titles at 1280 x 1024 resolution and play smooth Blu-ray 3D content.
We no longer accept online orders at this time. We apologize for any inconvenience caused by this.